Happy Fitness Friday, Babes!
How are you celebrating Mom this weekend? Flowers? A home-cooked meal? A mani-pedi? Whatever your plan is, I'm sure it's bound to make her feel fabulous and cool.
I'm also sure it can be accompanied with some fun fitness-related activity.
Think about it: would working out brighten her mood? YES. Would it help the two of you bond? YES. Would it make you feel extra deserving of a celebratory cookie or macaron? YES.
It just makes sense to schedule a Mother's Day workout with Mom. Ya know… show her how much you love her by making her sweat a little!
While planning a Mother/Daughter workout for this Sunday, I stumbled across Shape Magazine's "Bring a Friend Workout". Doing this workout with your mom or a girlfriend would be a total blast, and laughing throughout the routine is bound to burn some extra calories.
Six Fun Mother Daughter Workouts
Partner Pistol Squats.

Partner Row

Plank High-Five
Partner Pushup
Partner Walking Lunge
Squat High Fives
And if this routine doesn't tickle your fancy, you can find another great partner workout posted here on Cameron Diaz's The Body Book website.
But if that also doesn't excite you or Mama Bear, enjoying the great outdoors or the great indoors might. Walking/running/bike-riding followed by a picnic in the park or a snack on a patio could be an excellent addition to your girls' day. And so could shopping, even though this idea might not seem particularly ground-breaking. According to the University of Hawaii Nutrition website,  walking through a store at a leisurely one kilometer per hour pace burns around 200 calories per hour for a 150-pound person.
So there you go; a way to exercise your bod and your wallet.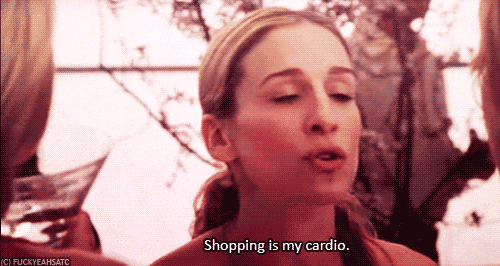 Have a fabulous weekend, Beautiful! And Happy Mother's Day to all of the mom's out there. <3
Until next time, stay fit and stay fabulous.
-J
Sources:
https://www.goodreads.com/book/show/20893341-the-perfect-mother
https://www.shape.com/fitness/workouts/bring-friend-workout
https://www.giphy.com/gifs