Happy Thursday, Snobs!
This week I'm introducing you to a brand new Thursday theme: Think About it Thursdays. This week's topic, body image and self esteem, is of a slightly serious nature, but I'll try and keep it as light as possible.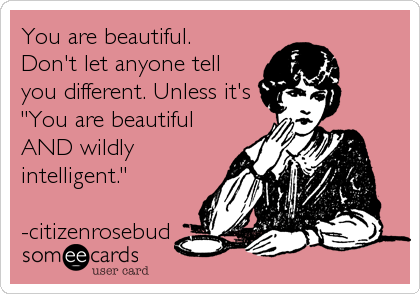 The idea came to me recently when I accepted a "naturally beauty challenge" on Facebook in which I was asked had to upload a naked-face selfie. I didn't think twice about rejecting this challenge. But why? Why was I so self-conscious about showing my make-up free self to my 345 Facebook friends? So I changed my mind and went for it. This momentary lapse in the development of my self-esteem actually bothered me more than putting a makeup-free selfie on the internet.
Many of us, both male and female, are in some way affected by issues with body image. Body image can include your hair, skin, face, weight or shape, and always seems to be quantified as a comparison to another person/people. The problem here is that each person's idea of beauty and perfection is different, and this difference is not entirely a bad thing!
Here are a few aspects to consider when it comes to your body and how it may differ from others':
Speed of metabolism – you've probably heard this one before. Everyone's is different and it changes throughout your life. Just because a person is thin doesn't mean that they do not eat, and just because a person is heavy set doesn't mean that they eat too much.
Somatotype – ties in with metabolism. This is a certain body type that we are born with that will never change, and includes ectomorphs, mesomorphs and endomorph. Somatotypes affect how our bodies store fat, store muscle, and the size of our overall frame.

Three body types; all beautiful.

Brain and body chemistry

– our bodies work in mysterious ways when it comes to appetite. We all operate differently under stress, and hunger and satiety are affected by this. Not to mention the many other types of conditions affecting our thyroid, blood sugar and digestion.
These are just a few things to consider in understanding your own body. If we can accept that we are different from everyone else, we can learn to accept ourselves as beautiful.  Still feeling self-conscious? It's probably because you have been judged in the past, and it's not a good feeling.
So why are people so critical and quick to judge? Well, it's just our nature. And some of us with low self-esteem actually gain pleasure from pointing out what they consider to be flaws in others; consider it a defense mechanism to protect our own ego. "I like her but she has no boobs," or "if you weighed less/more you'd be so pretty." NO. NO. We don't have to say these things, we choose to.
The perfect example: Mean Girls.
Mean Girls has taught us many things about friendship, body-image and well, mean girls.  I'm going to use quite a few reference from the movie, simply because they are straight forward and effective. This part of the film, I especially could never forget. Girls are actually so mean, even to themselves. And it turns out, there really are a lot more things about ourselves that we judge than fat and skinny.
The more we criticize ourselves, the more we tend to criticize others. And don't say something about yourself that you wouldn't be okay with others saying.
It's okay to feel beautiful.
Confidence is beautiful, and others may have a difficult time accepting that. Brush off negativity, because it is more likely to dissipate if you don't pay attention to it.
Cady Heron had the right idea when she concluded:
Worry about yourself; stop judging others.
Every time someone criticizes something I was born with, I think "just worry about you," and from now on, I will speak my mind; I challenge you to do the same. Demeaning comments depict more about one's character than the comment itself.
Lastly, lay off the "skinny" bashing and the "fat" bashing. It won't change your body, it just makes you sound like a b*tch.
So think about it, Snobs: a happier, judgement-free, high self-esteemed you!
I've told you what my idea of beauty is, now you tell me yours in the comments below!
-C