Am I a pessimist? No. Am I a bit cynical? Probably. But let's face the truth here, many people believe in soul-mates; however, this harmless belief can take its toll on our relationships.
But your belief in a soul-mate really depends on how you actually define "soul-mate."
Is it your one-in-a-million-cant-live-without-you kind of love? Then you're a hopeless romantic:
Is it your you-drive-me-crazy-but-i-wouldn't-have-it-any-other-way kind of love? Then you're mostly like the rest of us: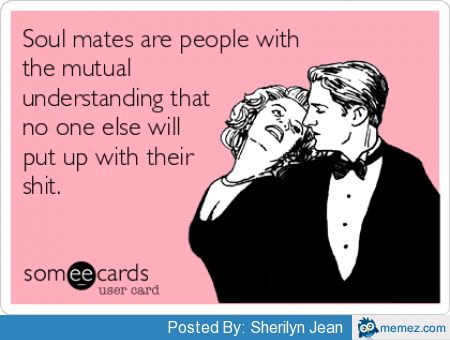 ---
So why must we be so cynical? Call it being realistic.
Psychology Today recently wrote an article about soul-mates that essentially nailed it: "Looking for a Soul Mate? You Can Do Better" written by Noam Shpancer, PhD.  Shpancer outlines the problems associated with our idea of soul-mates, beginning with how the idea of the soul-mate was introduced to some basic math:
Statistically, the odds of finding our one person among the billions of eligible candidates are vanishingly small.
– Shpancer 2014
Realistically, this is quite true; in the grand scheme of things, there are probably millions of people in the world you are compatible with. So essentially we find love based on proximity and convenience, which really is no problem at all.
But how does this hurt our expectations in a relationship? Consider the following − In a study, researchers compared the responses of individuals who were exposed to a "soul-mate metaphor" or a "relationship is a journey metaphor" and got them to rate their happiness with their relationships based on conflicts that have arisen in the past. They concluded the following:
"It may be romantic for lovers to think they were made for each other, but it backfires when conflicts arise and reality pokes the bubble of perfect unity. Instead, thinking about love as a journey, often involving twists and turns but ultimately moving toward a destination, takes away some of the repercussions of relational conflicts."
– Shpancer 2014
Read the full article here, where you will discover the limitations of this study and its implications for further research; it's worth the read.
So don't go reconsidering your entire life's perspective on love, just don't let unrealistic expectations ruin a good thing.
Have fun looking for/spending time with your journey mate!
-C